ABI Infield Rascal MVP
Versatile Infield Groomer
Request More Info & Factory Direct Pricing!
Take The Video Tour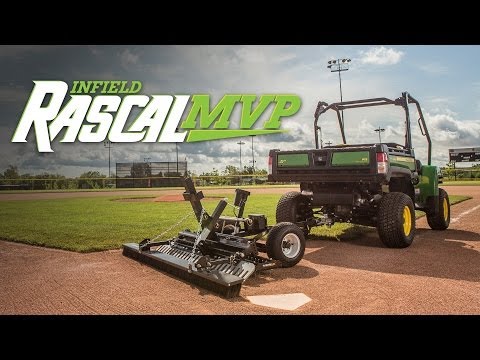 Product Overview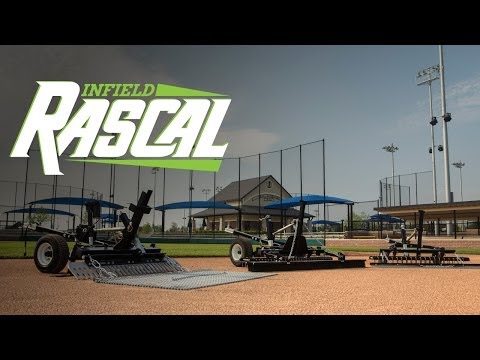 Product Line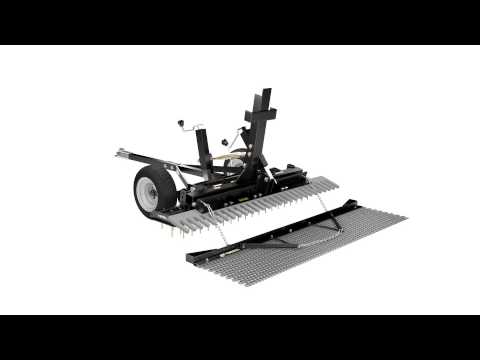 360 Spin View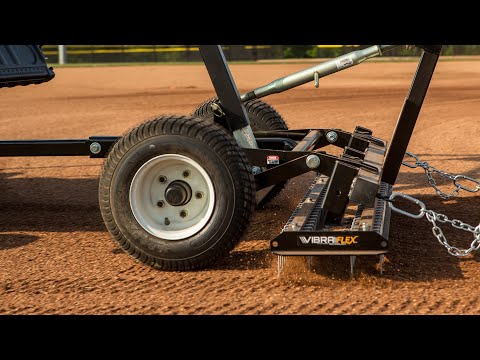 VibraFlex Attachment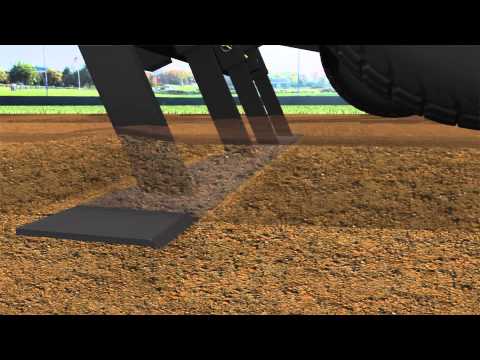 Profile Blade Attachment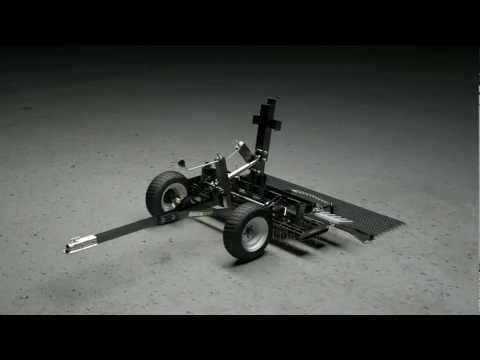 Finishing Attachments
Professional Infield Groomer - On & Off The Field
The Infield Rascal MVP is the professional-grade baseball and softball infield groomer that is a proven top performer both on and off the field. Unmatched in effectiveness and versatility, the Infield Rascal MVP, is designed for daily commercial use on both recreational and professional-level infield surfaces, plus it has the amazing ability to transform into a multipurpose ground-prep tool for seasonal renovation of the infield surface and off the field work. During seasonal renovation it can de-compact extremely hard infield surfaces & warning tracks, eliminate lip build-up along the turf edge, remove weed growth and creeping grasses at the root level, and even tackle gravel parking lot restoration and seedbed preparation jobs around the facility. No matter the level of play, condition of the field, infield surface material, or moisture available, the Infield Rascal® MVP has the technology to put your best game on the field. One tool does it all! This baseball & softball infield drag holds multiple patents and has additional patents pending.
In-Depth Walk-Through
Join ABI's Scott Holmes for an in-depth look at the Infield Rascal® MVP
Infield Rascal MVP- Walk-Through (Full Version)
Chapter Navigation
Ch. 1 - Overview
Ch. 2 - Construction
Ch. 3 - Stabilizing Wheels
Ch. 4 - Wheel Lift System
Ch. 5 - VibraFlex & Profile Blade
Ch. 6 - Ripper Teeth
Ch. 7 - VibraFlex Attachment
Ch. 8 - Drag Mats
Ch. 9 - Profile Attachment
Ch. 10 - Finish Broom
Ch. 11 - The End
Features
VibraFlex™ Groomer Attachment
For daily grooming, the Patent-pending VibraFlex attachment is a complete re-imagining of infield grooming. Evenly staggered U-pins transfer vibration & flex from front to back, dancing along the surface, shattering surface-tension to properly groom any infield. The VibraFlex groomer is available in two models for different infield soil formulations, facility type, and levels of play. The 1/8 inch, 1/4 inch or 3/8 inch pins are easy to replace or exchange and are mounted at an angle to create four staggered rows to best suit surface conditions. The standard model 3800 is for recreational fields with four staggered rows creating 3/4″ spacing with 1/4″ or 3/8″ U-shaped VibraFlex pins. The available model 5800 is for professional fields with four staggered rows creating 1/2″ spacing with 1/8″ or 1/4″ U-shaped VibraFlex pins.
Watch the Video
Profile Blade™ Attachment
For seasonal renovation work, the patent-pending Profile Blade attachment yields unparalleled de-compaction results slicing the complete profile of the infield material from a 1/2 inch to 3 inches beneath the infield surface. This is accomplished without displacing the material, reducing the need to laser grade after this work is complete. Occasionally de-compacting the infield surface encourages a quick draining and consistent playing ball field. Profile Blades also have the ability to 'cut' weeds and grass at the root-level to remove creeping grasses from infields and warning tracks as well as remove "lip" build-up along the turf edge.
Watch the Video
Ripper Teeth
Off the field, the Ripper Teeth give this tool the teeth for tough dirt work, when swapped out with the VibraFlex or Profile Blade Attachments. Now the Rascal can rejuvenate a parking lot, eliminate potholes & washouts, or prepare soil for seeding. The ripper teeth are adjustable from 0″ – 7″ to get to the bottom of the most demanding jobs. The bolt on tips are replaceable for reduced maintenance cost.
Multi-Function Pivoting Rake
For seasonal renovation work, the patent-pending Profile Blade attachment yields unparalleled de-compaction results slicing the complete profile of the infield material from a 1/2 inch to 3 inches beneath the infield surface. This is accomplished without displacing the material, reducing the need to laser grade after this work is complete. Occasionally de-compacting the infield surface encourages a quick draining and consistent playing ball field. Profile Blades also have the ability to 'cut' weeds and grass at the root-level to remove creeping grasses from infields and warning tracks as well as remove "lip" build-up along the turf edge.
Quick-Swap Finishing Attachments - Rigid Drag Mat
The Infield Rascal's Quick-Swap finishing attachments make it easier than ever to achieve just the right finish, no matter the infield surface condition and with no tools required. The standard finishing attachment is a custom designed 6′ wide Rigid Drag Mat with integrated leveling bar. This rigid drag mat is the all-purpose attachment that will float material to fill low areas and drag the surface ready for play. Because of it's rigid design, this drag mat levels and smooths WITHOUT following small contours of the ground ensuring a level playing surface. The innovative integrated leveling bar floats materials from high areas into low areas, is a nearly indestructible tow bar, and allows the steel mesh to be replaced once worn. Other available finishing attachments include a fine finish broom, coco drag mat, and an extreme duty flexible drag mat.
Watch the Video
Patented Wheel Lift System
The patented Wheel-Lift System provides precision control over the Infield Rascal and is operated either with a manual jack or the available electric actuator. This system raises and lowers the Rascal chassis for easy transport around the facility, but most importantly, it holds underbelly attachments at a consistent ground-penetration depth during operation. The available electric actuator enables on-the-fly control of the Rascal from the seat of the tow vehicle. The actuator is a huge time saver when used during renovation work or for multi-field facilities. The Rascal rides on large 16.5 inch tall by 8 inch wide tires to ensure consistent grooming results on the field and efficient transport off the field. The large wheels additionally stabilize the Infield Rascal from sinking into soft material or pitching side-to-side ensuring consistency of grooming depth, the width of the unit, especially when maneuvering tight turns. These are high quality wheels with replaceable hubs, spindles, and bearings for long service life.
Welded 3
At the core of the Infield Rascal® MVP is a welded main frame built upon 3″ x 3″ tube steel. The frame is fully welded, except at pivoting joints, for rugged and long lasting service life. This is truly a commercial grade piece of equipment built to take the abuse of hours of daily use.
Finishing Attachments Carrier
The Infield Rascal®'s Finishing Attachments Carrier holds the optional drag mats and broom off the ground for easy transport. These options include a Rigid Drag Mat, Coco Drag Mat, XD Drag Mat & Fine Finish Broom. This is especially handy in multi field complexes.
Ground Contact Adjustment
The turn-knuckle on the top of the Infield Rascal® is designed to enable adjustment over the angle in which the ground engaging components come in contact with the ground. This adjustment allows the operator to flatten out the VibraFlex™ groomer for proper operation or adjust the pitch of the profile blades or ripping teeth. This feature is also a very handy, no tools required, way to adjust for varying hitch heights when using multiple tow vehicles.
36-Month Commercial Warranty
At the core of the Infield Rascal MVP is commercial-grade construction and superior craftsmanship. This chassis is designed for daily use and is built tough enough to take on the demands of all sports turf facilities. And just to prove how much we believe in the quality of this tool, ABI backs it with a 36-month limited warranty. This warranty covers both consumer and commercial use and is the longest infield groomer warranty in the sports turf industry! See warranty documentation for details.
Photo Gallery
Optional Equipment
5' VibraFlex™ Groomer (Model 5800)
The model 5800 VibraFlex™ groomer functions just like the standard model 3800 but is designed for higher clay content (higher end) infield surfaces. This drag includes both an 1/8" and 1/4" thick set of u-shaped pins that are mounted at an angle to create four staggered rows with a 1/2" spacing. The 1/8" pins are specifically designed for the world's most pristine playing surfaces. This VibraFlex™ Technology is simply the pinnacle choice for frequent infield surface maintenance.
Watch the Video
6' Coco Drag Mat w/Leveling Bar (6' x 2')
The ABI Coco Drag Mat with Leveling Bar is 6′ wide and 2′ long and is ideal for adding a fine finish to an infield skin even in high moisture conditions. The innovative integrated leveling bar floats materials from high areas into low areas, is a nearly indestructible tow bar (for use behind a tow vehicle) and allows the coco matting to be replaced once worn.
Mini-Scarifiers
The mini-scarifiers work in tandem with the separately sold mini-box blade. These replaceable mini-scarifiers loosen material to feed the mini-box during the infield grading process.
Mini-Box Blade
The Mini-Box Blade gives the Infield Rascal MVP extra earth-moving muscle and unmatched versatility. Paired with the optional electric actuator, the operator can quickly and effectively carry material, collect loosened debris & rocks, grade, and level with finesse! It can effectively reset the grade around home plate, sliding areas, along base paths, and warning tracks.
7' Fine Finish Broom
The Fine Finish Broom is 7′ wide and offers 3 rows of bristles. The mounting arms are adjustable to set the exact working angle desired, yet the broom will float independently from the Infield Rascal® frame. The broom has an ideal weight for the perfect amount of down pressure needed for beautiful performance. If the surface is already clod-free and level, then the Fine Finish Broom creates the best finish in both high and low moisture conditions. The 3 ideally spaced rows of easily replaceable bristles, will help to float a small amount of material into low areas and finish the infield in a pristine "major-league" manner.
6' XD Flexible Steel Mesh Drag Mat (6' x 3')
The XD Flexible Steel Mesh Drag Mat is 6′ wide by 3′ long and is the most extreme duty drag mat on the market. It is ideal to finish and reset the surface ready for play after heavy maintenance work. The steel mesh is made of extremely thick rust resistant galvanized steel. The rods are an impressive 6 Gauge and the ends are welded to protect the edges from fraying as it hits bases, fencing and other obstacles. The drag bar is 1/8″ thick angle iron to eliminate bending. Ideal for all ball diamonds, trail maintenance, breaking-up aeration cores, leveling cleat prints in turf fields and more!
Electric Actuator
This industrial grade actuator is powerful, rugged and finely tuned for easy operation of the Rascal from the seat of the tow vehicle. It is most commonly used to lift the tool for transport, raise the tool for tight turns over areas you do not want to disturb, to cut-&-fill grade material, and to set the depth of the VibraFlex™ ripping teeth or profile blades. While grading is possible without additional options, we HIGHLY recommend this electric actuator to control the wheel-lift system from the seat of the tow vehicle. This option greatly enhances the effectiveness and efficiency of the Rascal for "cut-&-fill" grading and spreading applications. It includes all hardware and wireing needed to attach to a 12v battery and has a very convenient handlebar mounted controller. This controller enables easy operation while keeping both hands on the handlebars of the quad, ATV or UTV. An optional wireless remote controller is also available. A manual crank jack is standard.
Wireless Remote For Actuator
The wireless remote upgrade works with any ABI actuator purchased after June 1st 2013. Now you can control the Rascal's wheel-lift-system from almost anywhere. Our wireless system has 2 key chain, all weather sealed, remote controllers for use with multiple tow vehicles or multiple operators at the same job site. This complete wireless kit offers easy plug-&-play installation.
3-Point Conversion Kit
ABI is proud to offer a 3-point option that converts the standard Infield Rascal MVP into the ultimate 3-point groomer tool for sub-compact and compact tractors. Now Infield Rascal MVP owners, that also own the 3-point option, may in under 1 minute, swap back and forth between a pull behind tool for ATVs or a 3-point tool for small tractors; with no tools required. This amazing versatility for one tool to work with both ATVs and 3-point tractors is ideal for facilities that prefer to use a different tow vehicle for varying jobs . Compatible with both category 0 and category 1 3-point hitch types.
Specs
| Part # | MVP |
| --- | --- |
| Frame Construction | Welded 3" x 3" |
| Wheels | 16.5" tall x 8" wide |
| Unit Weight | 492 lbs. |
| Minimum CC/HP | 450 cc / 20 hp |
| Hitch Type | 2" Ball Standard (Pin Hitch also included) |
| 3-Point Hitch: | Optional (For CAT 0 & I) |
| Warranty | 36 months |
Pricing & specifications are subject to change without notice.
Reviews
| Larry, Twentynine Palms, CA
I recommend the Infield Rascal because I moved from the bottom up here and have used a variety of field equipment in my life. From a rake, to a pull behind homemade broom brush system, three wheelers with a drag, three different competitors machines and now the Rascal. There is no comparison in quality, efficiency or the time and money savings we have achieved with the Infield Rascal. Nothing has gone wrong after one year of constant use. The others machines we have used are contentious maintenance issues. You can have anyone call me or email for my opinion especially if they have done field work in their career they will understand what I am talking about. I do this for no other reason than you guys made the Infield Rascal right.
| Scott Putnam
There is absolutely nothing like the Infield Rascal out on the market. I shopped around and most people spend $18,000 on a Toro Sand Pro. The Infield Rascal will run circles around the Sand Pro for 1/6th the price. I love how you can rip out the weeds in just one pass. This is the best decision we have spent our money on. I can't say it enough how much I love this tool. We are a small D3 school and we have D1 schools asking if they can play on our field because of the weather. When we get a lot of rain the Infield Rascal airs it out completely. In just a few passes it will be ready to play on in the toughest weather. Our school used to use three different tools to prepare the field before a game. Now we don't have to rush or worry about getting it done in time. We get asked if we had our field professionally grades every time we play a game on it. I am so happy with this purchase and would buy from ABI any time. Their staff is incredible and my salesman, Roger Walterhouse, was fantastic in helping me get what I wanted and in a short amount of time. I can guarantee you will love the Infield Rascal; it is the greatest tool out there.
| Leo MacDonald, Lions Park , Regina Saskatchewan, Canada
Just a quick note letting you know how great your product is. I'm the lone groundskeeper at a 6 diamond complex and the Infield Rascal has been a great investment . It saves me man hours , energy and best of all produces great results in leveling, weeding, overall maintenance and appearance of our baseball facility. I wish we had the Infield Rascal years ago!!
| Brian
The Infield Rascal works great. We also have a drag mat on the back that makes a nice crisp finish on the field when I'm done grading it. If I could change one thing it would be buying it sooner before the end of the season.
| Mike Sahrle, Facilities Director, Bishop Kearney High School
We could not be happier with your product. The machine does exactly what we needed it to do. As you know, we had a very wet spring here in western NY. We did have to cancel a number of games, but if the weather cooperated enough that we could get on our fields with the infield rascal, we had them ready for play. There were a number of days we had the only playable fields in the area and schools were moving games here. I have already sung your praises to others in my position and will continue to do so. Thanks!
| Don From Idaho
The hardest thing for me when I was buying the Rascal was purchasing it over the phone, but now that I have it I couldn't be happier with my tool. My salesmen Brad Ulick did a great job explaining how it worked and what it was built to do. The main reason I am so happy is because the tool does exactly what Brad said it would. I wasn't finagled or tricked into anything and he made it very clear that it was my decision and wasn't forcing anything on me. The Rascal is the best tool out on the market and I wouldn't trade it for any other drag.
| Stan From Missouri
I love the Rascal and it does exactly what you guys said it would. I am extremely happy with it.
| Board Meeting Minutes, Middlesex, Ontario
In June 2010, the North Middlesex Recreation Department purchased an Infield Rascal...to maintain the field at a high professional level....(The Infield Rascal was then stolen)... Over the past year, the Infield Rascal professionally maintained our infields. The Infield Rascal maintains a safe playing surface that is free from bumps, ridging and high and low spots. It also maintained a softer infield surface that gave the ball a truer and much safer bounce. There was no need for multiple spikier drags, nail drags, leveler bars, drag mats and other tools. The Infield Rascal also worked well at removing the edge or lip that develops on the infield/outfield border. It had the ability to 'cut' weeds and grass at the roots that grows in our infields....Without the use of the Infield Rascal, all infield surfaces become harder, which will cause a hazardous hop to the ball. Bumps, ridges and high and low spots will also become more apparent. These hazards could cause injury to the participants. Staff will be required to remove the weeds and grass, by hand, that will grow in our infields, increasing staff wages to maintain the playing fields. Staff will be unable to maintain the edge or lip that develops on the infield/outfield border on a regular basis. Scott recommends that Staff be directed to purchase another infield rascal to maintain our ball diamonds at the professional standard they have become accustomed to.
| Dharl Bagley, Altoona Iowa Baseball League
I am the baseball rep for the Altoona Iowa Baseball league. Recently I have been researching John Deer TX Gators for purchase with an attachment for ball field finishing. Although I didn't know about your company at the time I purchased two TX Gators with Broyhill field levelers and hydraulic lifts since this is what they offered. I was contacted yesterday afternoon by our local John Deer dealership with the unfortunate news the electric over hydraulic lift is not compatible for the Gator TX. This presented a problem with being able to secure two new units for our fields. I quickly started searching Google where I came upon your Infield Rascal and was extremely impressed over the multiple uses of the tool as well as the ability to remove it from the Gator with ease. Secondly I watched the YouTube video's placed on the internet from the link provided on your web page and quickly became a fan of the attachment. I contacted Roger Walterhouse yesterday evening just before your business hours closed where Roger answered many questions and took the time needed to explain the tool extensively. Never once did I hear Roger state you were closed or could I call you back during business hours. Myself as a manager can attest the people you surround your organization with, will ultimately decide the fate of your continued customer following. I wanted to write you this brief email and extend my thanks to the professionalism I was greeted with from the moment I called your number. It's the customer's choice to make the initial call to do business with any company; it's the people they are greeted with that keep them coming back. I want to thank you for great looking presentation and quote I received from Roger. It's nice to see professional result's like I'm accustom to rather than the hand written, poorly copied and faxed bids I have received from other companies. Hands down your presentation and customer skills have sold your company to me and the Altoona Baseball organization. I am looking at the misrepresentation of the Broyhill units as a positive mistake that have given our league a better optioned and universal tool. I will be presenting the bids and my recommendations to the board this week for the purchase of the Infield Rascal.