First Look: Dan James Test Drives the SportPro Synthetic Arena Groomer
Dan James takes a Test Drive in His Synthetic Arena
Champion Riener, film and TV horse trainer, and long time friend of ABI Dan James gets a first look at the ABI SportPro Premier Equestrian Edition groomer for synthetic arena footing.
To learn more about the SportPro family, view the full line by visiting https://www.abiattachments.com/arena-drags/synthetic-footing-arena-drags/ or call a Product Specialist at 877.788.7253

Check our what Dan James is up to at https://doubledanhorsemanship.com/
For Golf Carts, ATVs, Small UTVs, or Utility Tractors
67.5" Width

Starting At: $111/mo.*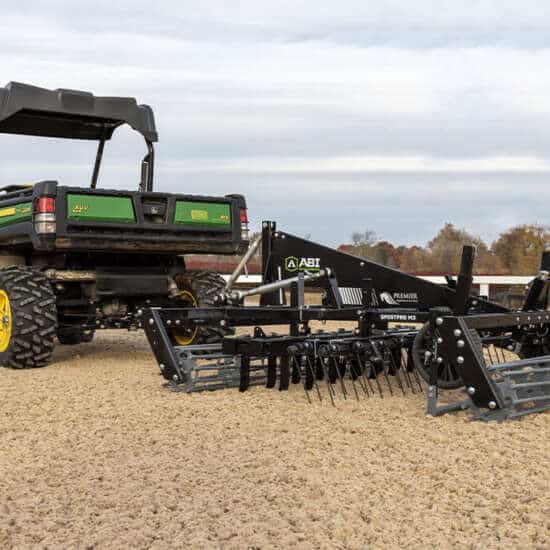 For Large ATVs, UTVs, Compact, or Sub-Compact Tractors
67.5", 83.5" Widths

Starting At: $159/mo.*
For Compact or Sub-Compact Tractors
67.5", 83.5" Widths

Starting At: $155/mo.*
Transcript
Synthetic Arena Footing, Better than Ever
Hey everyone, welcome back to the ABI Dirt. Today is going to be an extra special episode because we've got some really big news and we wanted all of you, our faithful ABI Dirt viewers, to be the first ones to know about it. As you may have already guessed from my helmet, we are going English. What I mean by that is that we have been developing a whole line of arena groomers, specifically for arenas that have synthetic additives in the footing and we're really excited to tell you all about it.
As you may know, English disciplines, as well as some western disciplines, liberty being one of them, prefer synthetic footing in their arenas. And since we are the industry leading provider of natural footing drags, we get calls all the time about what arena groomer would work best in a synthetic arena, or if our natural footing arena drags, work in sand arenas with fiber additives. But as we talked about in our last episode, there's a really big difference between synthetic footing and natural footing. They each kind of need their own tender loving care. Which is why we decided to go ahead and design an entire line of arena groomers specifically for synthetic footing. So, before I show you the products themselves, I wanna share with you some equally exciting news about who we've partnered with in order to create these incredible products. When we set out to craft the perfect synthetic arena groomer we wanted to partner up with experts who understood sand footing with synthetic additives. Because we wanna be able to provide you industry-leading synthetic groomer in the same way that our Drag Master, Speed Master and TR3e Series are already the natural footing industry leader. Which is why we've partnered with Premier Equestrian. Premier Equestrian specializes in composing sand footing with additives to create the perfect synthetic arena surface. Together with the experts at Premier Equestrian and our engineering team, we've built a line of arena groomers that allow you to tackle your daily maintenance seasonal remixing and renovation projects so you can tackle all of your synthetic footing needs. No matter what kind of synthetic footing you've got.
Meet The SportPro Arena Drag for Sand Footing
Meet the Sport Pro. The sport pro line consists of the M5 that has a 3-point swivel hitch for compact tractors, the M3 toll behind for UTVs and larger four wheel drive ATVs, or the M1 for smaller ATVs and golf clubs. So, whatever tow vehicle you've got on your property or whatever kind of synthetic additive you've got in your arena, or whatever moisture content you like, we've got a product in the lineup to meet your needs. In the next episode of the Dirt, so keep in touch, I'll walk through the individual components on each one of these models. But for today, I just wanna point out some key features of this innovative line. The first key feature is the ability to be configured to suit exactly what you need for your footing in your arena. The standard model comes with coil tines in the smoothing bar, an option for either s-tines or scarifiers, as well as an option for one roller or two.
The second key feature of this line is the structure. Each of these models has been engineered with carefully determined space in between each one of the ground engaging contact points. Which means, that the overall frame, the distance from nose to tail, is a bit longer. And I know, as we show some of these units off some of you're gonna say, 'Well, Matt, why is that arena drag so stinking long?' Here's why, the space in between your ground engage components allows a flow of material. A flow of material through the drag allows for comprehensive blending of your synthetic footing. If you're familiar with synthetic footing you know that the little particles sink down into the bottom of the footing while the larger particles of footing rise up to the top. Okay, okay, I could talk about this new lineup for hours, we're so excited around here to be able to take care of those of you with synthetic arena footing or if you've got some synthetic additives to your sand, I'll stop for today.
Tune in next time when we come back on the next Dirt, I'm gonna be walking through model by model showing you the specific ground engaging components and why they're built to meet your needs. But if you can't wait, you don't wanna wait for next episode. If you're a binge watcher, then give us a call as soon as you're done watching this video. Our product specialist would be happy to talk with you about which configuration of the Sport Pro line would best meet your needs. See you next time, everyone.
For more information on these or other attachments visit us at abiattachments.com or call a Product Specialist at at 877.788.7253