Synthetic Footing Arena Drags
Perfect for any sand and additive combination
Synthetic footing comes in many shapes and sizes. To get p
rofessional-level results in your synthetic arena, you need a groomer built to adapt to your unique set up and needs.
the Right Groomer For Your Synthetic Arena
Synthetic groomers aren't one-size-fits all. There are a variety of considerations that should go into picking the perfect drag for your synthetic arena. Moisture content, particle size, tow vehicle, size of arena, and the additive you're working with are just a few of the many elements that make your arena unique. And to get the right groomer for your unique set-up, you need an implement that's designed to be adaptable. That's why our engineering team crafted the SportPro line of synthetic groomers with over a dozen configurations available, so you can be sure you're getting the best groomer for your synthetic arena. Don't settle; get a synthetic drag that's built to last, and has been engineered to adapt to your needs.
For Golf Carts, ATVs, Small UTVs, or Utility Tractors
67.5" Width

Starting At: $116/mo.*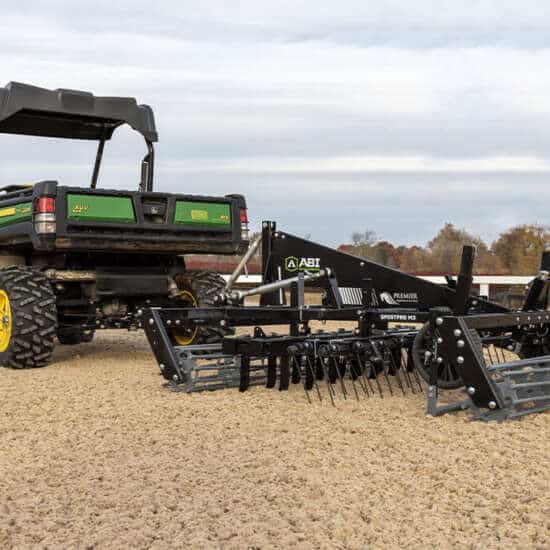 For Large ATVs, UTVs, Compact, or Sub-Compact Tractors
67.5", 83.5" Widths

Starting At: $168/mo.*
Arena Drags for Sand and Additive Mixing
Creating an optimal experience for your horses doesn't end after you install a synthetic arena. No matter what synthetic arena footing you are working with, your additive pieces and the particles of sand will naturally separate during use. If you're not doing daily footing maintenance, your horses no longer get the right consistency to ride on, which hinders their training and performance. The SportPro synthetic arena groomer is intentionally crafted to make sure you are able to get the best out of your footing, with every pass.
Keep your Material Blended
The SportPro is built with extended space between the components to maximize the flow of footing material. This allows for the proper blending as the components pull up small particles that have settled to the bottom, and press down large pieces that have risen to top.
Daily Maintenance Just Got Easier
The SportPro line's ability to remix your materials with every pass makes it the perfect tool for daily maintenance. It's never been easier to keep your synthetic arena footing in top quality shape.
Seasonal Mixing and Renovating
The adaptability of the SportPro makes remixing, renovating, leveling, or adding new fibers to your synthetic arena as simple as adjusting the components from a more passive setting to an active setting. This feature also makes it easy to change the surface tension of your footing for conditioning purposes.
Grooming Equipment You Can Rely On
Both riders and their horses deserve footing they can rely on, which means you need a dependable drag that's built to last. From the tough steel frame, to edging capabilities, to the way your groomer and wear parts will ship to you—no detail is too small if it makes your grooming and riding experience better.
Less Hassle with the No-Shell Design
The tough steel frame is built without a shell for increased visibility and to make it easier to reach individual components for any needed adjustments or upkeep.
Groom every nook and Cranny
The optional edger blade for your SportPro can get in corners as well as level out excess material that's built up around your arena. And for extra kick wall protection, you can also add on the rail wheel for extra security when grooming those tough-to-reach places.
Avoid Overseas Fees and Delays
We ship our synthetic groomers, replacement parts, and wear parts from our factory in Indiana directly to you through freight shipping. So you can avoid pricey shipping fees that comes with a drag imported from overseas and you can count on better rates and shorter shipping times.
Top Level Results for Every Tow Vehicle
Meet your tow vehicle's new best friend, the SportPro. The SportPro line has three base models with a range of configurations and sizes, so you can ensure your drag is built to perfectly groom your specific type of synthetic footing—with whatever tow vehicle you choose.


Quarter Horse Congress | AQHA | NFR | Lazy E Arena | World Class Shows