Patented ATV & UTV Driveway Grader & Landscape Rake
The Gravel Rascal® Pro Is The "One-Tool-Does-It-All" ATV Grader and UTV Grader!
 Command your land like never before with the versatile ATV driveway grader. Professionally grade gravel driveways & parking lots, repair rutted trails, prep to seed lawns & pastures, groom horse arenas, prepare food plots, and so much more. 
Multiple Attachments In One: The Gravel Rascal Pro has the teeth for tough dirt and gravel work and

combines the function of an atv road grader, atv landscape rake, atv grader blade, atv land plane, atv chain harrow, and atv pulverizer all into one patented atv attachment

. 
Add the optional disc system, and it

replaces a disc harrow, rotary tiller, and plow

as well! This patented innovation not only eliminates the need to buy all of these implements separately, but it also gets more work done with better results, faster than you thought possible! 
This versatile American-made ATV driveway grader is a durable, easy-to-use, and easy-to-connect ATV Grader that will take your property to the next level; no tractor required. NO OTHER ATV DRIVEWAY GRADER OR UTV DRIVEWAY GRADER MAKES QUICKER WORK OF GRAVEL DRIVEWAY POTHOLES, WASHOUTS, & WASHBOARDING! 
4.5', 5.5', 6.5', & 7.5' Widths Available. 60-month Limited Warranty.
Grade Gravel Driveways & Parking Lots!
The Gravel Rascal Pro is a complete gravel driveway resurfacing system for your ATV or UTV! It recycles existing gravel, creates a level and smooth driving surface, and restores rough potholes and washboard-filled driveways to new! Add the optional electric actuator to collect and drop gravel and dirt where you want it, plus make turnarounds easy! Add the optional mini box blade for even greater grading precision. This UTV driveway grader has the teeth for tough gravel work!
Eliminate Potholes
Smooth Corrugation / Washboarding
Cut Or Maintain A Crown
Recycle Existing Gravel
Blend Aggregate Particles
Eliminate Vegetation
Redistribute & Spread Gravel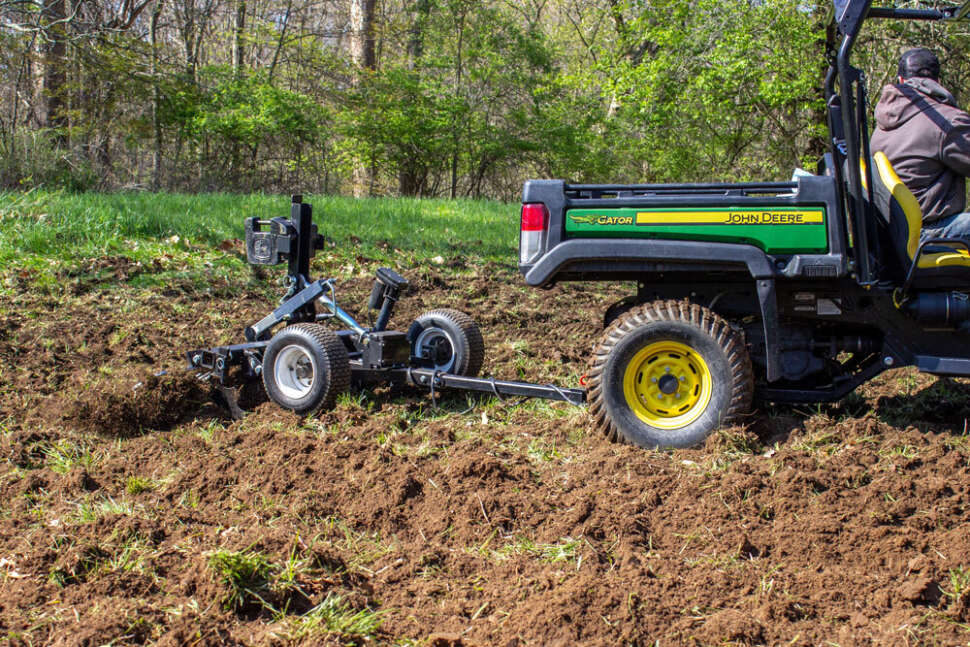 Prepare Food Plots & Gardens For Planting!
With the optional 14″ notched disc system, the Gravel Rascal Pro can quickly cultivate and level gardens & food plots, eliminating the need for a separate disc, rotary tiller, or plow. Easily swap in the optional discs to the Rascal Pro platform to annihilate vegetation and roots. After discing, reinstall the included scarifiers and lower the Rascal's rake to the ground. Then harrow the soil with the Rascal Pro to level it and create a perfectly smooth seedbed, maximizing seed germination rates. The ATV & UTV grader creates wildlife hunting food plots as smooth as a residential lawn!
Maintain & Repair Off-road Trails & Paths!
The Gravel Rascal Pro is an incredible UTV grader to maintain and repair off-road trails and paths. The Gravel Rascal Pro has the teeth required to power through and level the deep ruts found on ATV, UTV, dirtbike, and snowmobile trails. It has the versatility to work well on a wide range of applications, from motocross tracks to horse trails and walking paths.
Prepare Soil For Seeding & Sod Projects!
The Rascal Pro ATV landscape rake quickly installs, repairs, or expands lawns and landscapes, eliminating the need for a separate atv landscape rake, pulverizer, or rotary tiller. This UTV grader completes landscape contouring and proper soil preparation for grass seed or sod. ABI's ATV landscape rake incorporates scarifiers and an adjustable finishing rake to properly prepare the perfect seedbed, free of compaction, for excellent seed-to-soil contact and accelerated germination.
Repair & Harrow Drylots & Pastures!
After resurfacing the gravel driveway, hobby farmers can extend the Rascal Pro ATV landscape rake usage into livestock pastures, paddocks, and dry lots, eliminating the need for a separate chain harrow, landscape rake, or pulverizer. Loosen the soil to reseed bare areas in pastures, smooth out dry lots rutted up by livestock, and breakup and spread manure in paddocks to help improve soil health. ABI's UTV Grader is One Tool That Does It All!
Groom & Renovate Horse Arenas & Round Pens!
The Rascal Pro's versatility enables the professional grooming of horse riding arenas and round pens. The included patented Profile Blades evenly clean compaction below the arena footing surface, ensuring that what the horse sees on the top surface is also what the horse feels when his hooves penetrate the ground! Learn More