ABI SR3
---
SR3 Rake - For Landscapers & Contractors
The SR3 is a commercial-grade seedbed preparation attachment for skid steer. This amazing landscape rake incorporates an auto leveling blade, hydraulic scarifiers and a finishing rake to properly prepare the perfect seedbed, free of compaction, for excellent seed-to-soil contact and accelerated germination. Unlike a power rake, the SR3 has no rotary components so it can take abuse like no other soil prep attachment can. Possibly the greatest benefit of the SR3 is ease of use. With clear sight lines to the front edge of the tool the operator can have confidence even along concrete edges, irrigation heads, landscaping, and buildings. Even an inexperienced operator can quickly become an expert SR3 operator as it can be operated with the loader arms in "Float". The SR3 has the capability to complete both light rough grading and finish grading jobs more quickly and easily than ever before. Forward and reverse grading and raking operation. Loosens soil up to 3"(standard), adjustable to 5". 7.5' wide.
Time Saver
With an easy-to-set depth control in the gauge and float wheels, any operator can quickly clear, grade, and finish the toughest of jobs. Sift out rocks, level, and loosen when pulling the SR3; push large amounts of material and feather loose soil up against an edge when pushing forward!
Less Downtime & Handwork
The ability of the SR3 to finish a job from overgrown land to a seedready finish drastically reduces time spent changing tools, unloading trailers, reconnecting hydraulics, and more. Its ability to tackle every job-from spreading large mounds of topsoil & removing debris to feathering against a tight edge-greatly reduces the need for other tools and handwork. Watch your profits soar: complete more jobs each day with fewer staff on site!
For Any Crew
Matchless in the landscape industry, the float & gauge wheels on the SR3 let any operator achieve quick, easy, and professional results. Furthermore, the low-profile design was engineered to provide maximum visibility of ground-engaging components (minimizing guess-work). Assign any crew with confidence!
Soil Decompaction
At ABI Attachments we know that there is nothing more important to preparing a proper seedbed than getting rid of the compaction of the soil. A de-compacted soil allows water and air to reach the roots of the seed, giving those roots the ability to anchor deep creating a stable and healthy turf.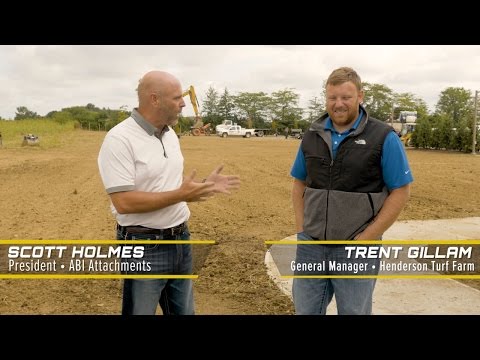 ABI's Command Series Conversations | Henderson Turf
Henderson Turf Farm
Trent Gillam with Henderson Turf Farm talks with Scott Holmes with ABI Attachments about the benefits of the TR3 Command Series and the impact it has on seedbed germination.
Features
The SR3 combines the best features of a skid steer attached Box Blade, Landscape Rake, Pulverizer, Land Planner, & Scarifier all into one innovative design. This eliminates the need to switch out attachments and delivers vastly superior results, significantly faster than ever before. In comparison to a power rake, the SR3's features provide significantly more soil compaction relief, speed of operation, and grading capability without downtime due to extensive maintenance.
Learn more about Features
I-Beam Design
Fully welded for the utmost strength and longevity. Our Command Series tools are designed to work under tough conditions all day, every day.
Learn more about Features
Innovative 3-In-One Design
Designed to operate at an angle, the SR3 is a wheel-supported attachment with 3 ground-engaging components that work together to create the ideal seedbed.
Learn more about Features
Specs
Ground-Engaging Components
3
Learn more about Specs
Reviews
| Philip Bourdon
SR3 replaces multiple attachments: When making a purchase, I look for versatility and efficiency. SR3 rake is the REAL DEAL. I have to give the creators of this product 2 thumbs up. The marketing is 100% accurate of efficiency & results. I did lots of research on this attachment, and ABI said if I don't like it in a certain time frame I can send it back...... We never sent it back! We have very hard packed clay in central VA and this tool is 100% the grading solution for a high output result in hard clay soil. We have great results without the expense of topsoil, and by following the recommended methods of proper planting, using the right seed & fertilizer etc.. I never wright reviews, but the SR3 is worth giving feedback on. I was very skeptical of durability & performance, until we saw it in person and started using it. This unit also keeps dust down much more than a power rake during the dry season. It's affordable and was very well engineered.
| Ryan D.
Great for leveling and grading rough surfaces, especially where there is existing sod or vegetation. Takes a little time for operator to learn ins and outs of attachment for smooth final grades. Built to last.
| Timothy Harrell
We were looking for a machine that would break hard packed soil on builder lots. Machine works great and faster than the Harley rake. Levels and preps sites better than anything we used in 20 years. Very impressed.
| Spyridon AIBEJERIS
I purchased the sr1 and absolutely love it. I use it with my John Deere 317 skid steer, land clearing, spreading dirt, raking debris, gravel roads; great awesome attachment for tractor!!!! I will more than likely upgrade to the sr3.