ABI TR3 Command Series
---
TR3 Rake - For Landscapers & Contractors
The Command Series TR3 Rake is a commercial-grade seedbed preparation attachment for Cat 1 3-point tractors. This amazing landscape rake incorporates an auto leveling blade, hydraulic scarifiers and a finishing rake to properly prepare the perfect seedbed, free of compaction, for excellent seed-to-soil contact and accelerated germination. Unlike a power rake, the TR3 Rake has no rotary components, it can take abuse like no other soil prep attachment can. The TR3 Rake is vastly more efficient and effective than a power box rake as it can be operated at a much higher speed and is capable of eliminating compaction, leveling, raking, and finishing the ground simultaneously on every pass. The TR3 Rake has the capability to complete both light rough grading and finish grading jobs more quickly and easily than ever before. Forward and reverse grading and raking operation. Loosens soil up to 3" (Standard), adjustable to 5". 7.5' wide.

Monthly Payments

Starting at:
Tough Bite
There's no quicker way to finish grade and prep a large seedbed than with a tractor. We invented the patented TR3® to be the ultimate multi-purpose tractor tool. On large sites,where heavy equipment has been constantly compacting the soil, the only way to create a healthy seedbed is to de-compact deep enough for a robust root system.
Finishing Finesse
The TR3® Command Series attachment with hydraulic scarifiers penetrates 5 inches or more to remove compaction quickly. It reduces the labor and time needed for seeding jobs, all while creating perfect seedbeds for healthy, hardy growth!
Ultimate Efficiency
The TR3® was designed to sit at an angle so all ground contact points work simultaneously: loosen, level, and rake on every pass! Foam-filled stabilizing wheels work in tandem with the 3-point hitch to keep the tool level, making it easy to operate & achieve professional results!
Soil Decompaction
At ABI Attachments we know that there is nothing more important to preparing a proper seedbed than getting rid of the compaction of the soil. A de-compacted soil allows water and air to reach the roots of the seed, giving those roots the ability to anchor deep creating a stable and healthy turf.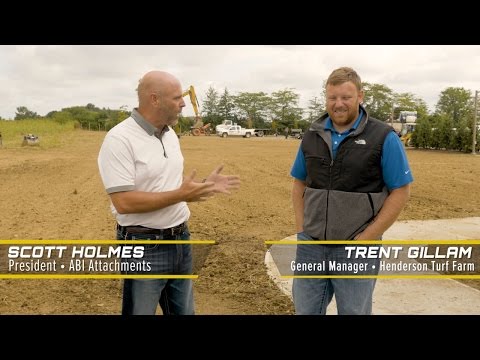 ABI's Command Series Conversations | Henderson Turf
Henderson Turf Farm
Trent Gillam with Henderson Turf Farm talks with Scott Holmes with ABI Attachments about the benefits of the TR3 Command Series and the impact it has on seedbed germination.
Features
The TR3 combines the best features of a tractor attached Box Blade, Landscape Rake, Pulverizer, Land Planner, & Scarifier all into one innovative design. This eliminates the need to switch out implements and delivers vastly superior results, significantly faster than ever before. In comparison to a power rake, the TR3's features provide significantly more soil compaction relief, speed of operation, and grading capability without downtime due to extensive maintenance.
Learn more about Features
I-Beam Design
Fully welded for the utmost strength and longevity. Our Command Series tools are designed to work under tough conditions all day, every day.
Learn more about Features
Innovative 3-In-One Design
Designed to operate at an angle, the TR3 is a wheel-supported attachment with 3 ground-engaging components that work together to create the ideal seedbed.
Learn more about Features
Ground-Engaging Components
3
Learn more about Specs
Reviews
|
There are no reviews yet.