Arena Drags
Perfect Footing Made Easy
ABI has arena drags for both natural footing and synthetic footing. So no matter what disciplines you are riding in or what surface tension and depth you need, we have a drag to get the best out of your arena footing.
Better Grooming Equipment for a Better Ride
Arena footing comes in many different textures, particle sizes, and components. Your footing is unique to your region, your disciplines, your water system, and the composition of your arena. In order to get the ride you are looking for, you need grooming equipment that tailors to your specific arena footing. That's why at ABI we intentionally design, engineer, and manufacture our arena drags to be easy to adjust, and craft them to adapt to all types of footing textures and makeups. Whatever footing you're working with, we have a drag for you.
For Golf Carts, ATVs, Small UTVs, or Utility Tractors
67.5" Width

Starting At: $116/mo.*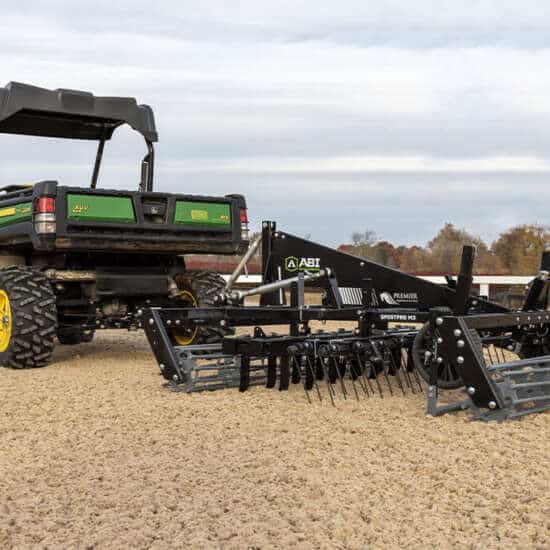 For Large ATVs, UTVs, Compact, or Sub-Compact Tractors
67.5", 83.5" Widths

Starting At: $168/mo.*
Arena Footing Matters
You invest in supplements, training, veterinary care, and so much more. Why? Because you want to give your horses every advantage to stay in their best shape for, years to come. A huge part of creating the optimal environment for your horses to succeed is caring for the very ground they practice and train on. Footing can make or break a run, an event, a facility, or a career. That's why, as competitors and trainers continue to advance what's possible, it's essential to invest in high quality equipment to manage arena footing properly. To improve your practice and elevate your performance, get equipment built to last and engineered with equestrians and their horses at the forefront.
Avoid injury with SURE FOOTING
Footing that isn't level or consistent puts strain on your horses joints and ligaments. But when your horses train in a properly groomed arena, you can avoid strains and injuries that come from poorly maintained footing.
soundness Elevates performance
Without surety in where they step, your horses simply can't perform their best. When you use a groomer that resets the soundness of your arena with every pass, you empower your horses to give their best. When the footing is sure, so are your horses.
Eliminate distraction
Inconsistent arena surfaces create footing uncertainty for your horses and increase their chances of distraction while training. Which is why ABI arena drags are intentionally designed to create footing consistency from base to surface.
SAY GOODBYE TO THE ATTACHMENT GRAVEYARD

Your horses should be able to depend on the footing they train and ride on. For that to happen, you have to be able to depend on your equipment. Whether you're working with natural or synthetic footing, you've invested in the space your horses ride and that arena footing can't be at it's best consistency without a durable, reliable drag to groom it for daily maintenance and periodic renovating or remixing.
Made for you
ABI is the industry leader in arena grooming equipment because we engineer our tools with equestrians at the forefront. No detail is too small if it provides added convenience to your or benefit to your horses.
Built Better to last longer
The best arena drag attachments aren't just the ones that groom the most efficiently, they are also the ones that last for years and years to come, without decreasing in the quality of their grooming capabilities.
adaptable and Adjustable
Every facility, every discipline, even every individual equestrian has their own specifications when it come to the texture, grip, and depth they need in their footing. Which is why we make our tools infinitely adjustable, so your arena grooming attachment can adapt perfectly to your arena surface needs.
Whatever tow vehicle you're working with, we have a drag for you.
At ABI, we draw on our years of experience and our team of expert partners to design and build the best arena drags for the requirements of each disciplines and demands. We believe that your arena care routine should be easy to keep up with no matter the size of your arena or what tow vehicle you have.
Find out which ABI arena drag is perfect for your arena by calling 877.788.7253.


Quarter Horse Congress | AQHA | NFR | Lazy E Arena | World Class Shows